What do pretty eyelashes mean? Is it pretty to have long, curled eyelashes? Let's find out what beautiful eyelashes are. Let's learn all about eyelashes with Minh Lashes.
How do you decide if someone has beautiful eyelashes?
So far, the trend in beauty and makeup has always been to focus a lot of attention on having a nice base and nice eyes. A beautiful eye must have a number of things going for it, such as big, bright eyes; a single or double eyelid that works with the face; and, most importantly, beautiful eyelashes. But what pretty eyelashes! Or is it just long and thick enough to look nice?
Men and women alike think that lashes are beautiful. The most important thing for beautiful eyelashes is that they are thick and long, but did you know that there are still "golden ratios" for lashes?
What kinds of lashes are pretty? This is when the length of the lashes is one-third the length of the eye. This is called the "golden ratio" because it makes the eyes look good without hurting them.
So, having lashes that are too long is not a good thing. Eyelashes should be just the right length for your eyes.
In addition to the length of the lashes, the thickness, density, and shape of the eyelashes are also important in deciding if they are beautiful or not. If the eyelashes are long, which is the "golden ratio," but too thin, it's not a good thing.
Also, beautiful eyelashes need both upper and lower eyelashes. The lower eyelashes are often shorter and thinner, and some people don't even have them. But the best eyes need to have both upper and lower lashes. A "standard" eye is one that has both upper and lower lashes.
How do you get pretty eyelashes?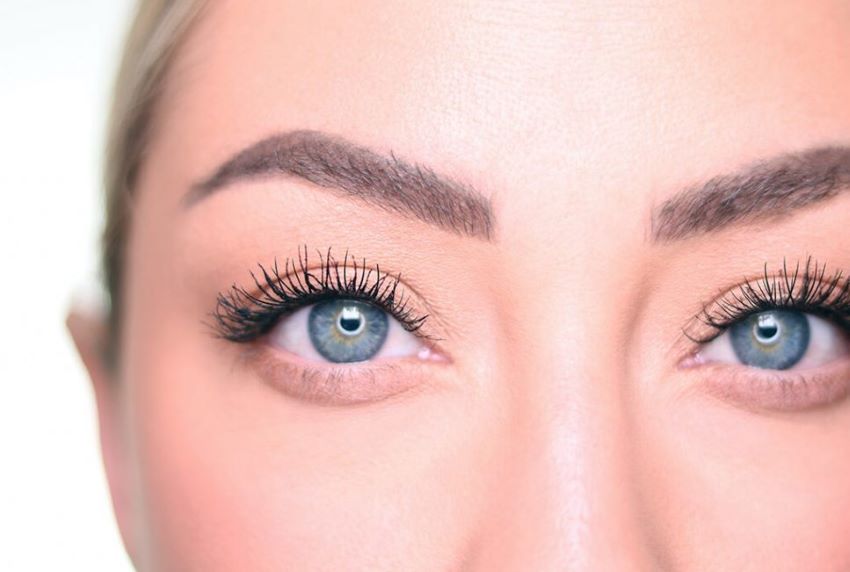 We all know the "golden ratio" of a beautiful eyelash line, and not everyone can meet all of the standards. Girls and guys alike want to know how to get pretty eyelashes.
The best eyelashes are naturally long, curled, thick, and black, but if we don't have those, there are many ways to improve their appearance. You can use the information below as a guide.
Using mascara brush
This is probably the most common way, and almost every girl knows it. It makes the eyelashes longer and thicker, which makes the eyes look better.
Before you put on mascara, curl your lashes with an eyelash curler. Then, put on mascara. When you put on mascara, curl your eyelashes three times in the order "root first, middle, and last," and gently lift while clamping.
Here's how to use mascara the right way:
You hold the mascara brush horizontally in a zigzag motion and move the brush head slowly and evenly upwards at the same time.
For a more dramatic look, you can straighten the head of the brush and brush each lash separately. Then, brush your bottom lashes and the lashes at the corners of your eyes.
But you should know that if you want to have beautiful eyelashes by using mascara, your lashes must also be a certain length and thickness. If your lashes are short and sparse, this method will not work, nothing.
Eyelash extensions or use Fake eyelash
Girls with thin or short lashes can quickly get beautiful eyelashes by getting eyelash extensions or false eyelashes. False lashes can be used right away and can be used when putting on makeup for a party. However, eyelash extensions are the best way for a girl to keep her eyelashes long, curled, and thick. You can pick your favorite eyelash style or try out different ones, and the technicians will glue the fake eyelashes on top of your real ones to make beautiful, thick, long, and attractive lashes.
Care for eyelashes, growing out eyelashes
In the end, the only way to have beautiful natural eyelashes is to take care of them and do so carefully.
How do you take care of and care for lashes? In particular, when taking care of your lashes every day, you need to pay attention to how you take off your eye and eye makeup. Taking off your makeup carefully will help keep your eyelashes soft and moist. If you don't take off your makeup, it will definitely cause your lashes to wear and tear.
When you're done removing makeup from your eyes and lashes, don't forget to feed your lashes. You can use natural oils, creams, or serums, or you can buy safe eyelash care products. quality assurance. If you take care of your lashes every day, they will grow faster, longer, and thicker.
Coconut oil, olive oil, gac oil, aloe vera, honey, and… are all natural ways to take care of your eyelashes.
Do you know how beautiful eyelashes are now that you've read this? Using the beauty standards for eyelashes as a guide, I hope you can design a beautiful, attractive, and good-looking set of eyelashes for your face. Follow Minh Lashes every day to get new information that could be useful.