There are many ways to dissolve eyelash extension glue at home, but not all of them are safe and effective. Here, Minh Lashes will share with you how to dissolve eyelash extension glue very simply and effectively at home; it is not only simple but also gives the desired results and at the same time is not expensive at all.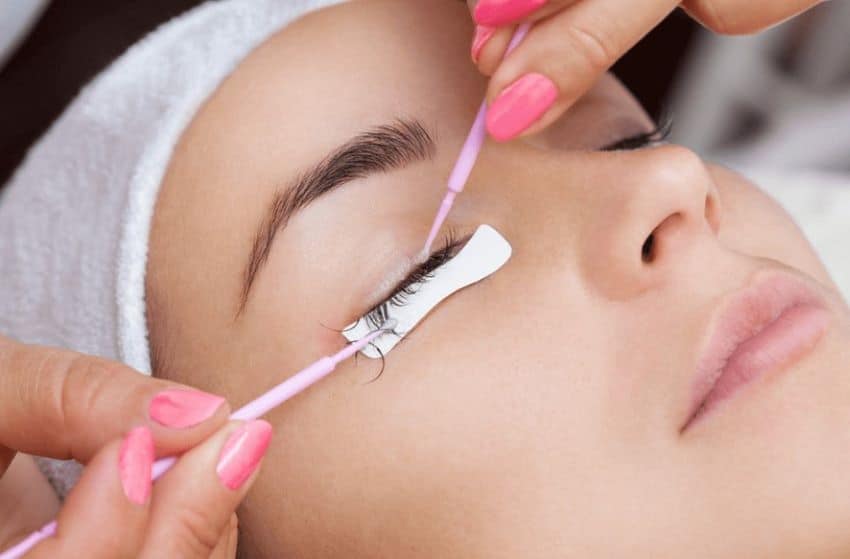 Ways to dissolve eyelash extension glue at home
It's not unusual for glue from eyelash extensions to stay on the eyelashes for a few days after they've been put on. You want to clean it but don't want to make the false eyelashes fall out, not to mention it is still in a rather sensitive position, which is near the eyes; if so, immediately apply the following methods!
Cleanser liquid
Almost every girl in today's society uses a face wash; it not only helps to clean the skin but can also help dissolve the eyelash extension glue.
You just need to wash your face as usual, but use warm water to melt the glue. Then, use a towel or cotton swab to gently wipe the glue away, being careful not to affect the eyelashes and eyes. Finally, rinse with cool water and dry the entire face with another soft towel.
Hot steam
This is the simplest and safest way to dissolve eyelash extension glue today. Girls can completely do it themselves at home with the available materials.
The hot steam will gently melt the eyelash extension glue without any physical impact.
You just need to sit patiently in front of a bowl of hot water and let the steam absorb into your eyelashes for a few minutes. Put a towel over your head to create an enclosed space, like steaming your face.
Wait until the water cools down, remove the towel, and stand in front of the mirror. Use a soft cloth or paper towel to gently wipe away the glue, which is extremely easy and fast. Pay attention to doing it very gently if you do not want to lose the eyelash extension.
Olive oil
The ingredients in olive oil can soften and loosen eyelash extensions and other adhesives.
Olive oil is generally safe for skin, and when used on eyelashes, just make sure it doesn't get into your eyes.
How to use it is very simple; you put 1-2 drops of olive oil on a cotton swab or cotton ball, then gently rub on the glue.
Wait for a few minutes, then rinse with warm water and pat dry with a soft towel. The eyelash extension glue will almost melt away, leaving no trace.
Oil Jelly
Oil jelly is a by-product in the petroleum industry; it can dissolve many compounds, including eyelash glue, and is safe to use on human skin.
To apply this method, pour a little jelly oil on a cloth swab or cotton swab, then rub the glue gently. Wait about 5 minutes, and pay attention to closing your eyes to avoid getting into your eyes. Finally, rinse with warm water until the glue layer is almost completely gone.
Note: With all the above methods, you should pay attention not to let anything get into your eyes; otherwise, it may cause irritation or infection and damage your eyes. To reduce the risk, you can use a piece of waterproof paper placed between the eyelashes and the eyes, so it will be safer.
If the above methods of dissolving eyelash extension glue still do not help, you should go to the salon or beauty center that has attached your eyelashes and ask them to solve the problem. They will use more professional and safe methods to melt the glue, so you can rest assured.
The methods listed above are for dissolving eyelash extension glue at home. I hope the article will help you, and don't forget to follow Minh Lashes to get more interesting information about eyelashes.